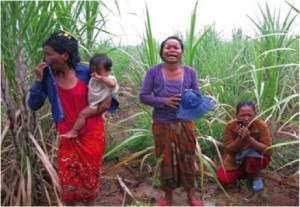 In Cambodia today, hundreds of thousands of people are being alienated from their homes, farmlands, forests and fisheries as the country's ruling elites and foreign investors plunder the country for private profit in the name of 'development'. In rural areas, more than 2 million hectares – representing more than half of Cambodia's total arable landmass – have been granted to private companies as concessions for the development of agro-industrial plantations.
Sugarcane is one of the leading 'boom crops' driving the Cambodian land-grabbing frenzy. In recent years, there has been a rapid expansion in the Cambodian sugar industry, with at least eight land concessions being granted over tens of thousands of hectares to private companies for industrial sugarcane production. Rights observers have documented serious and widespread human rights abuses and environmental damage caused by these companies affecting more than 12,000 people.
IDI has joined forces with a coalition of communities and civil society organizations to launch the Boycott Blood Sugar Campaign.
The campaign is working to:
Stop human rights abuses and environmental damage caused by the Cambodian sugar industry
Bring about a just resolution for the individuals and communities have been harmed by the industry
Ensure that agricultural development and trade policies benefit smallholder farmers and local communities
One of our chief concerns is the European Union's Everything But Arms (EBA) initiative.  EBA is a European trade agreement that allows Cambodia-based firms to export sugar and other goods to the EU without import duties and with a guaranteed minimum price.  This agreement is supposed to benefit the world's poorest countries by spurring investment and fostering trade, but in Cambodia the benefits have gone to companies that are actually making people poorer! IDI and our coalition partners are calling upon the European Union to investigate serious human rights abuses in connection with Cambodian sugar production, in accordance with the human rights provisions of EU trade regulations.
The campaign is also targeting the sugar production companies, their investors, and multi-national sugar retailers that are selling the sugar in Europe. A major outcome of this advocacy so far has been the divesture of the German investment fund DWS (a subsidiary of Deutsch Bank) from KSL, the Thai company involved in a major sugar operation in Koh Kong province. The campaign has also submitted two complaints to Bonsucro – an industry association that is committed to a metric standard for sugar production – against their members Mitr Phol and Tate & Lyle for violations of the Bonsucro Code of Conduct. The Bonsucro Complaints and Grievances Committee is currently investigating these complaints and is pursuing mediation between the complainants and the respective companies.