Every year, millions of people are forcibly driven from their land, homes, and farms to make way for hydropower dams, large-scale plantations, oil and gas pipelines, and other mega-development projects. The human impacts of this displacement have been devastating. Livelihoods have been destroyed, leaving families impoverished. Communities have lost access to schools and healthcare, and they have seen their social networks and cultures break down. Human rights defenders who have dared to resist these projects have faced criminalization and repression.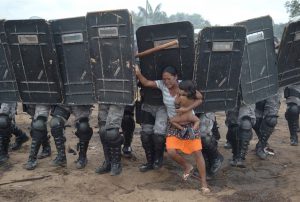 The global financial system is fueling this crisis with its relentless pursuit of new resources and markets. As capital becomes more interconnected, decisions made in boardrooms in New York, London, and Beijing are increasingly harming vulnerable communities and the ecosystems they depend upon. Communities are excluded from decision-making about development that affects them and then face further marginalization when they are forced to shoulder the costs.
Inclusive Development International was launched in 2011 to fight back.
We have been deeply inspired by people who have risked their lives and liberty resisting displacement and other human rights abuses caused by unjust development, unbridled greed and unchecked power. We have witnessed the destruction of entire communities whose struggles have become our own, but we have also seen how the world's most powerful corporations can be held accountable by organized communities engaged in persistent, smart and strategic advocacy.
We founded Inclusive Development International in order to support the struggles of those fighting on the front lines for just and inclusive development.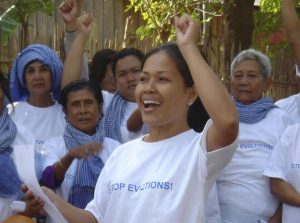 We partner with grassroots organizations and local communities around the world to defend their land, natural resources and human rights against threats from harmful investment, trade and development projects.   Together with our partners on the ground, we have prevented harms and obtained remedies after the fact in cases many believed "impossible" to win.
The cornerstone of Inclusive Development International's approach is to unravel and expose the investment and supply chains behind harmful projects. Upon request from community advocates, our researchers use the financial sector's own technology and tools to follow the money, identify pressure points for advocacy, and place this information in the hands of those whose lives depend on it. We then work with communities over the long haul to prevent harms and secure justice by leveraging pressure points through sustained, multi-pronged, and evidence-based advocacy strategies.  In doing so, we are increasing the financial and reputational costs for investors that enable and profit from human rights abuses and environmental destruction, creating a powerful deterrent for irresponsible investment.
At the same time, we campaign at the policy level to change the way development institutions, the financial sector, and multinational corporations do business.