World Bank Safeguards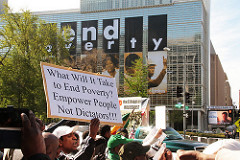 In August 2016, the World Bank released a new Environmental and Social Framework, meant to prevent harm to people and the planet and "maximize development gains." The framework was adopted by the bank following a four-year review of its suite of "safeguard" policies that had been developed over the preceding thirty years.
The new framework comprises a policy that binds bank staff in their appraisal and supervision of projects, along with ten standards covering issues including labor, biodiversity, Indigenous Peoples and resettlement, which the bank's borrowers must meet when implementing bank-financed projects. The adoption of the framework marks a significant overhaul of the old system of safeguard policies.
Throughout the safeguards review, IDI worked with civil society partners around the world to mobilize a concerted, international effort to strengthen the World Bank's policies on land rights, displacement and resettlement, and to demand that they uphold the bank's international obligations to respect, protect and fulfill human rights. Our detailed submissions in each phase of the review are available below.
Our Assessment of the Environmental and Social Framework
Early in the review process, World Bank President Jim Yong Kim made a public commitment that there would be no dilution of the safeguard policies. However, the new framework contains both improvements as well as serious regressions to the bank's system of protection.
On the positive side of the ledger, the new Environmental and Social Standard on Land Acquisition, Restrictions on Land Use and Involuntary Resettlement (ESS5), contains a prohibition on forced evictions, including of informal settlers, who are accorded important entitlements including arrangements to allow them to obtain adequate housing with security of tenure. Unlike the standards on other issues, it contains an annex that describes in detail the mandatory elements of a resettlement plan, including census surveys and baseline socio-economic studies of affected people before they are resettled, which is essential to ensuring that living conditions and livelihoods are restored.
Despite earlier attempts by bank management to roll back the coverage of land titling projects, our concerted push during the consultations led to a reversal of this decision, and the new standard explicitly covers displacement of people resulting from a determination that the land they are living on or using is state land. In addition, for projects that support land titling and "related issues", the borrower must demonstrate that applicable laws and procedures, along with project design features (a) provide clear and adequate rules for the recognition of relevant land tenure rights; (b) establish fair criteria and functioning, transparent and participatory processes for resolving competing tenure claims; and (c) include genuine efforts to inform affected people about their rights and provide access to impartial advice.
Land rights more broadly are better – though not comprehensively – protected in the new framework, with borrowers required to assess and address risks associated with land and natural resource tenure and use, including potential impacts on land access, food security and land values, and any risks related to land conflict.
Furthermore, ESS5 protects communities and persons, who may be displaced from land that is sold or otherwise transferred. For example, when a project involves support to commercial investments in agricultural land where the government transfers land to the investor, other people that use, live on and rely on the land are entitled to protections under ESS5. All such tenure claims, including those of customary and informal users, must be systematically identified and affected people must be meaningfully consulted, informed of their rights and provided with reliable information concerning environmental, economic, social and food security impacts of the proposed investment. "Community stakeholders" must be enabled to negotiate fair value and appropriate conditions for the transfer. While these protections are a welcome addition to the resettlement policy, there is no clear prohibition on land grabbing, including from households with recognizable legal possession claims and communities with customary ownership rights to the land in question.
These considerable advancements in the Bank's standards on resettlement and land tenure were all priority issues that IDI campaigned  hard for during the four-year review. They are all key protections and entitlements that — as we have learned in our casework supporting communities affected by development projects — are absolutely essential to preventing impoverishment and respecting human rights.  For example, in the Asian Development Bank and Australian government-financed Cambodian Railway case, we fought for adequate housing with security of tenure at resettlement sites; and in the Phnom Penh Boeung Kak lake case, we successfully argued that people's tenure rights must be fairly and transparently assessed under a bank-financed land-titling project and that those evicted must be resettled in accordance with bank standards.
However, IDI and many other organizations are deeply disappointed that in many other respects the bank failed to seize this rare opportunity to strengthen its safeguards and bring them in line with international human rights standards. The bank decided upfront that the new policies, like the current ones, would only cover traditional investment loans, and not all financing instruments, such as Development Policy Loans (DPLs) and Program for Results (PforR) financing. Therefore, despite the fact that these instruments make up a significant proportion of the bank's financial commitments, they will remain largely immune from the Bank's safeguards and accountability system.
While the Vision Statement of the new framework asserts that the World Bank contributed to the realization of human rights, the bank refused to seize the opportunity of the new framework to accept its human rights responsibilities under international law. Disappointingly, the World Bank – an agency of the United Nations – failed to use its new policy to affirm respect for human rights as the non-negotiable minimum floor for the treatment of project-affected people.
The framework also contains significant weaknesses that could reduce the likelihood that the standards are applied in a rigorous and effective manner. Instead of setting out clear joint-responsibilities on the bank and borrowers, most of the responsibility for applying the new set of standards is placed on borrowers. The World Bank's responsibilities to conduct due diligence, monitoring and evaluation are considerably more vague than in the old safeguard policies and procedures. There is an over-reliance on the borrower's word, including assessments of social and environmental risks and commitments for future action, without clear obligations on bank staff to seek independent third party views or verify information themselves. This is despite the obvious incentives on borrowers to downplay risks and undercount affected people to reduce costs and, indeed, the evidence of this malpractice in previous projects. Moreover, essential documentation to inform rigorous due diligence and total project costs, such as Resettlement Action Plans, are no longer explicitly and clearly required prior to the board's consideration and approval of every project that will cause displacement.
Furthermore, ESS5 does not explicitly require that the project requiring compulsory acquisition of land and displacement is genuinely in the public interest and promotes the general welfare, and we do not believe this should be assumed to be the case just because the World Bank decides to finance it. It also does not require that the magnitude of displacement and the attendant risks of harm be reasonable and proportionate to the public good that the project will achieve.
In a regression from the previous policy on involuntary resettlement, it no longer covers people who are displaced due to activities other than land acquisition and restrictions on land access, even when those activities are directly and significantly related to the bank-assisted project and necessary to achieve its objectives. In fact, ESS5 explicitly excludes negative impacts on incomes or livelihoods (economic displacement) that are not a direct result of land acquisition or land use restrictions imposed by the project. This means that despite the fact that the economic and social losses experienced by families may be just as severe, the requirement under ESS5 to restore incomes and livelihoods does not apply. Instead, these impacts are dealt with under the more general requirement to "mitigate" harms or compensate when "financially feasible".
On balance, despite some significant improvements, the World Bank has failed to align with human rights standards and set the bar on protecting people and the environment for development finance institutions around the world. It can no longer claim the leadership mantle that it assumed some three decades ago, when it adopted the first resettlement policy of its kind.
What's next?
With the new framework now adopted, the World Bank is shifting gears to prepare mandatory directives and procedures and non-mandatory guidance and information tools to assist in implementing the framework. The content of these instruments can influence the interpretation of the framework and fill what are currently vague responsibilities on the bank with the details that could make all the difference where the rubber hits the road. IDI will work with our partners to push the bank to put in place the strongest possible procedures and tools to ensure that people who are displaced by bank-financed projects are protected from harm and human rights violations, and instead can share in the benefits of their nation's development.
Press Releases and Blogs