Extraction would take place at two oil fields—the Kingfisher field, operated by China National Offshore Oil Corporation Ltd (CNOOC), and the Tilenga field, operated by TotalEnergies of France—and be partly refined in Uganda.
The 1,445-kilometer pipeline will transport crude oil south from Uganda for export at the Port of Tanga in Tanzania. The EACOP pipeline will carry 216,000 barrels of crude oil per day (10.9 million metric tons per year) at 'plateau production' according to the project's website.
According to calculations based on the specific fuel density of the EACOP blend, the emissions from the burning of this fuel would be at least 34.3 million metric tons of CO2-equivalent (CO2e) per year. These emissions will dwarf the current annual emissions of its two host countries combined, and will in fact be roughly equivalent to the carbon emissions of Denmark.
In addition to significantly contributing to the climate crisis, the project poses serious environmental and social risks to protected wildlife areas, water sources and communities throughout Uganda and Tanzania.
Extraction at the oil fields in Albertine Graben will jeopardize the Murchison Falls National Park, which is important for tourism as Uganda's second most visited national park, and Lake Albert, the most important resource for Uganda's fishing industry. The pipeline also risks polluting Africa's largest lake, Lake Victoria, which roughly 40 million people in the region rely upon for drinking water, household use, and food production. The 300 permanent jobs that the pipeline is expected to create will not compensate for the loss of jobs in agriculture, fishing and tourism.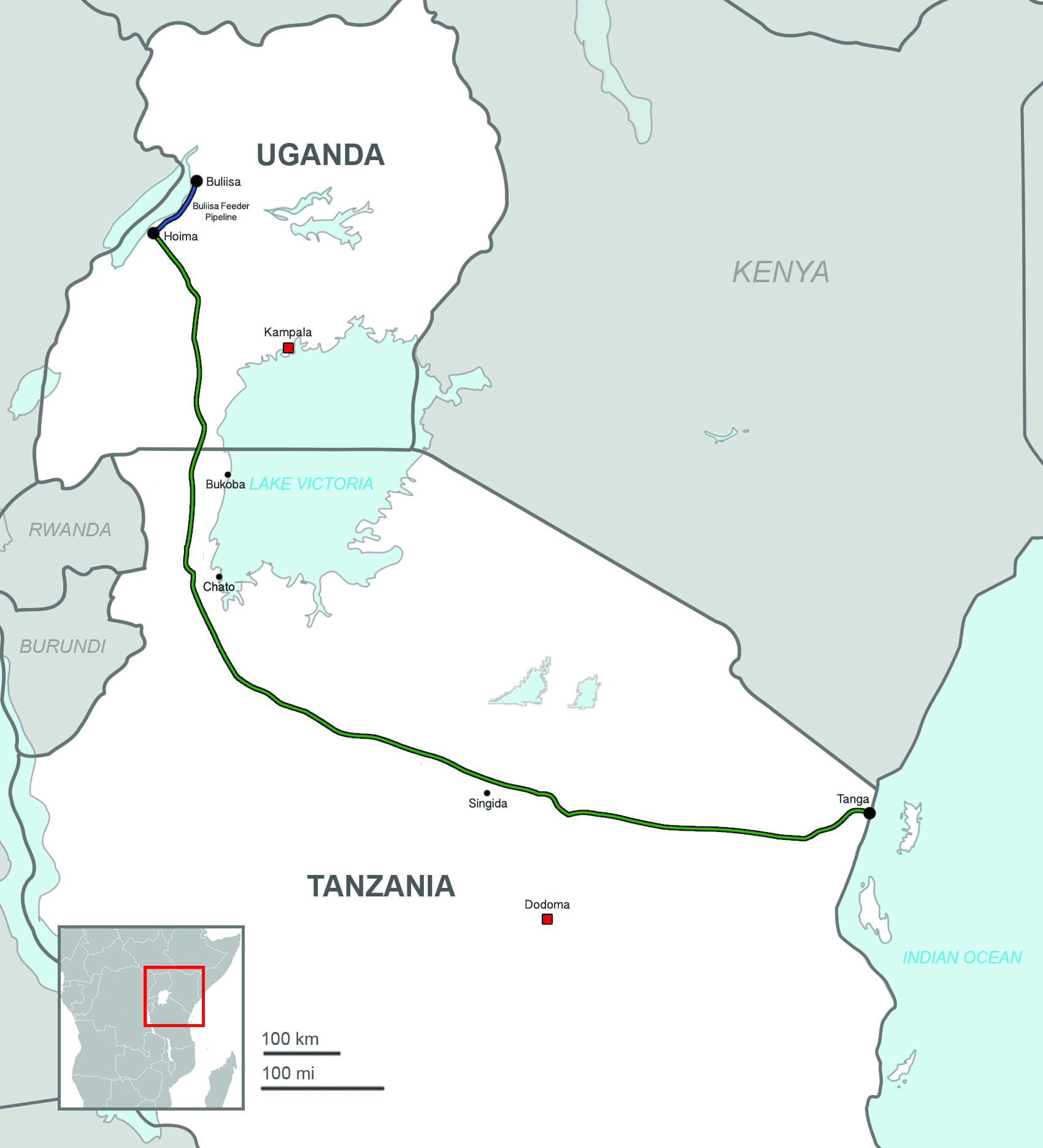 Nearly a third of the planned pipeline (460 kilometers) will be constructed in the basin of Africa's largest lake, Lake Victoria. More than 40 million people depend on Lake Victoria for water and food production. The pipeline also crosses several rivers and streams that flow into the lake, including the Kagera River.  Possible spills from the pipeline due to bad maintenance, accidents, third-party interference or natural disasters, risk freshwater pollution and degradation in this area – a likelihood that is even greater since the area around Lake Victoria is an active seismic area.
The pipeline route also traverses a number of heavily populated districts in both Uganda and Tanzania, and large-scale land acquisition and resettlement is expected as a result of pipeline construction and associated oil extraction and infrastructure, on both a temporary and permanent basis. Roughly 100,000 people are expected to lose land as a result of the EACOP project.
As a result of these grave risks, the project is facing significant local community and civil society resistance.