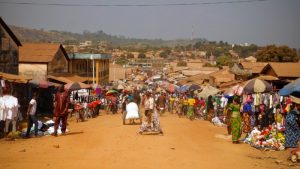 While most of the world was sheltering in place due to the COVID-19 pandemic in March, a hundred families were uprooted from their lush, centuries-old village in western Guinea and relocated to a barren hilltop to make way for a sprawling bauxite mine, backed by the International Finance Corporation.
Residents of the Hamdallaye village say the Compagnie des Bauxites de Guinée, or CBG, moved them to an unfinished resettlement site that lacks adequate housing, water, and arable land to replace the farmland that the company has taken from them over the past decade.
Three months later, World Bank President David Malpass responded to the Black Lives Matter movement by committing to tackle racial injustice and inequality, including within the World Bank Group. A banner reading "#EndRacism" was draped across the façade of the bank's headquarters in Washington.
If these words are to be more than just a hashtag, the bank should take a hard look at how it is deepening inequality by contributing to the plunder of African resources, at the expense of African lives, to help some of the wealthiest corporations accumulate more wealth.
READ FULL ARTICLE ▶