Inclusive Development International and our partner Equitable Cambodia are supporting more than 1,200 families in Cambodia who were forcibly displaced to make way for a massive sugar plantation in Kampong Speu province.
In January 2014, two confidential social and environmental assessment reports leaked to Inclusive Development International revealed that ANZ Royal Bank provided significant financing to Phnom Penh Sugar Company, which owns and operates the controversial sugar plantation and refinery in the Cambodian province of Kampong Speu.  ANZ Royal is a controlled entity of the Australia and New Zealand Banking Group Ltd. (ANZ), the third largest bank in Australia.
At the time ANZ gave the green light for the deal, Phnom Penh Sugar and its sister company Kampong Speu Sugar Co. Ltd. were embroiled in a conflict with hundreds of families in the Thpong and Oral districts of Kampong Speu province, where their sprawling sugar plantation was established by seizing homes, rice fields, orchards, grazing land and community forests relied upon by local farmers in at least 21 villages.
Phnom Penh Sugar received approval from the Cambodian government for an economic land concession of approximately 9000 ha in Thpong district in February 2010. On the same date, KSS was awarded an adjacent concession of 9052 ha in Oral district. The adjoining concessions are registered to the notorious Cambodian Senator and tycoon Ly Yong Phat and his wife Kim Heang.  In March 2011, Prime Minister Hun Sen signed a decree allowing land in the Oral Wildlife Protected Area to be reclassified and the KSS concession to be expanded by 4,700 ha.
Key Concerns
Violations of Cambodian law – The total landmass of the adjoining concessions is over 23,000 ha – more than twice the land size permitted under the Cambodian Land Law. The twin concessions were also granted without adherence to the procedural legal requirements for land concessions, including prior public consultations on the proposed project, prior completion an Environmental and Social Assessment, and assurances that lawful landholders would not be displaced and that access to private land would be respected.
Forced Evictions – Beginning in February 2010, the company began illegally seizing and bulldozing farm and residential land belonging to more than 1500 families in Thpong and Oral districts. Crops, including rice, mango, jackfruit, banana and coconut trees, were seized and cleared.   An estimated 100 families in two villages were forcibly evicted from their homes and resettled onto small residential plots without any infrastructure or services. The company used the police and the military, including the former Khmer Rouge "Battalion 313", to intimidate people into accepting inadequate compensation for losses, including infertile replacement land.
Destruction of protected forests – Community forests, legally recognized by the Forestry Administration, and protected State forest in the Oral Wildlife Sanctuary were also illegally cleared by the company, including dense forest beyond the boundaries of the concession.
Impoverishment and destruction of livelihoods – As a result of the loss of farmland, grazing land, crops and access to forest resources, affected people have been impoverished and faced with food insecurity. Many affected families have pulled their children out of school and have had no choice but to work with them on the sugar plantation, which for many people has become their only livelihood option since losing their productive resources.
Poor working conditions – Working conditions on the plantation are harsh. Pay is low and work is hazardous due to lack of compliance with workplace health and safety regulations. These hazards caused the deaths of at least three workers, who were killed by plantation equipment.
Environmental and health impacts – The firm's activities have had significant environmental and health impacts on surrounding communities, including as a result of its dumping of waste water. Local villagers claim that this dumping occurs once a year with the runoff flowing into community streams and other water sources, killing fish and affecting the health of villagers and their livestock.
Legal harassment of land defenders – Affected people who have protested their dispossession have been jailed or otherwise subjected to legal harassment by the courts as a result of complaints filed by company staff. Others have been banned from working on the plantation along with their family members. At least 38 villagers have faced criminal charges or court summons due to their protests.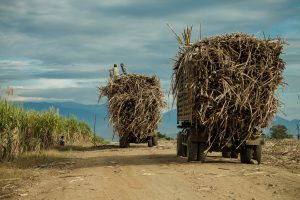 ANZ's Role and Social and Environmental Commitments
ANZ states on its website that it commits to "respect and promote human rights in the way [it] does business." ANZ states that this commitment is "supported by clear ethical standards set in in the Code of Conduct and Ethics, Group policies and [its] support for globally-recognized standards which aim to help ensure [it] avoid[s] violating human rights or being complicit in human rights abuses." These ethical standards are purportedly embedded into its business practices, including contracts, agreements and due diligence processes.  ANZ is also a signatory to the Equator Principles (EP), a risk management framework adopted by financial institutions "to provide a minimum standard for due diligence to support responsible risk decision-making." As such, ANZ commits to implementing the EP in its internal environmental and social policies, procedures and standards for financing projects, and to not providing Project Finance or Project-Related Corporate Loans to projects where the client will not, or is unable to, comply with the EP.
ANZ commissioned the consulting firm International Environmental Management Co, to prepare a "Phase 1 Environmental and Socio-economic Site Assessment" when it was considering financing Phnom Penh Sugar. The assessment report, dated November 23, 2010, failed to mention the high-profile conflict that the company was having with local communities displaced by its land concessions, which had been reported extensively in the local English-language press in Cambodia throughout 2010. Nonetheless, the assessment did note a number of social and environmental concerns, such as encroachment of the land concession into the protected Phnom Aural Wildlife Sanctuary. Of particular significance was its recommendation to "conduct a detailed impact assessment in the project area according to the assessment guideline provided by the Equator Principles and IFC Performance Standards." This recommendation was rated "high" in terms of "urgency to address impact."
ANZ proceeded with the financing of Phnom Penh Sugar without ensuring that such assessment would be conducted, or that social and environmental risks identified would be mitigated.
This significant omission, and the decision to proceed with financing of Phnom Penh Sugar despite the well-documented concerns, was at odds with ANZ's own human rights standards and its responsibilities under the UN Guiding Principles on Business and Human Rights.
After bringing these concerns to ANZ's attention in January 2014, the bank encouraged Phnom Penh Sugar to develop an action plan to address the communities' grievances.  This effort proved ineffectual and ANZ severed its ties with Phnom Penh Sugar in July after the company repaid its loan prematurely.
Demanding Accountability
On October 6, 2014, Inclusive Development International and Equitable Cambodia filed a complaint against ANZ to the Australian National Contact Point for the Organization for Economic Cooperation and Development (OECD). The complaint was lodged on behalf of the affected families who were forcibly displaced and dispossessed by Phnom Penh Sugar. The complaint details widespread violations of human rights, including forced evictions, military-backed land seizures, destruction of crops and property, arbitrary arrests and intimidation of villagers and the widespread use of child labour.  It argues that ANZ breached its responsibilities under the OECD Guidelines for Multinational Enterprises by contributing to these abuses through their actions and omissions and failing to take reasonable measure to prevent or remediate them.
Inclusive Development International and Equitable Cambodia argued in the complaint that ANZ contributed directly to Phnom Penh Sugar's unjust activities and profited from those activities, so it had an ongoing responsibility to provide reparations to those affected.
In June 2018, Australia's National Contact Point for the OECD found that ANZ's actions were inconsistent with its own policies and the OECD Guidelines. In a rare rebuke of a commercial bank, the National Contact Point said the human rights risks of doing business with the sugar company "would likely have been readily apparent" to ANZ. The Australian government body called on the bank to strengthen its due diligence systems and instigate "methods to promote and demonstrate internal compliance with its own stated corporate standards with respect to human rights." It also recommended that ANZ establish a grievance resolution mechanism "as a way of demonstrating that its actions are consistent with community expectations around the accountability of multinational enterprises in this area."
In October 2018, ANZ's CEO Shayne Elliott told a parliamentary committee that they were indeed considering compensating the hundreds of families that suffered as a result of its investment. Inclusive Development International, Equitable Cambodia and ANZ had ongoing contact following this statement, which eventually led to a request for Australia's National Contact Point to facilitate a new dialogue between the parties through its good offices process.
Victory!
On 7 February 2020, the Independent Examiner of the Australian National Contact Point facilitated a meeting involving representatives of ANZ, Equitable Cambodia and Inclusive Development International and the Cambodian families, which resulted in a landmark agreement to resolve the complaint. ANZ agreed to contribute the gross profit it earned from the loan to help alleviate the hardships faced by the affected communities and support their efforts toward rehabilitation. ANZ also agreed to review and strengthen its human rights policies, including its customer social and environmental screening processes and grievance mechanism.
This outcome is notable for several reasons:
• First and foremost, the contribution by ANZ will financially assist some 1,200 affected families, who have been struggling for years after losing their land and livelihoods.
• This is only the third time out of more than 330 NCP cases filed by communities and NGOs during the 20-year history of the NCP system that an NCP complaint has led to financial remedy.
• This is the first time that we are aware of when a private bank has agreed to contribute directly to remedy for harms to which it contributed through its lending. This demonstrates the importance of the OECD's recent due diligence guidance for corporate lending, which confirms that banks can contribute to harms through their lending activities and in such cases are responsible for contributing to remedy.
Complaint and AusNCP Documents
AusNCP Follow Up Statement and the Resolution Statement of the Parties (February 2020)
AusNCP Final Statement (June 2018)
IDI and EC Complaint Against ANZ Concerning Financial Services Provided to Phnom Penh Sugar Company (October 2014)
Media and Updates
ANZ Agrees to Landmark Settlement with Cambodian Farmers Displaced by Sugar Company It Financed
ANZ sets human rights precedent in settlement with communities displaced by company it financed – Responsible Investor, February 28, 2020 (paywall)
Australia's ANZ to compensate Cambodian families over land loss – Nikkei Asian Review, February 28, 2020 (paywall)
'Important precedent': ANZ pays Cambodian families hurt by project it funded – The Sydney Morning Herald, February 27, 2020
Australia's ANZ agrees payout to Cambodians locked in land dispute – Reuters, February 27, 2020
Australian Bank to Compensate Cambodian Farmers for Lost Land – Voice of America, February 27, 2020
ANZ bank compensates Cambodian community in landmark agreement–Southeast Asia Globe, February 27, 2020
ANZ compensates Cambodian families forcibly evicted to make way for sugar plantation – ABC News, February 27, 2020
ANZ Group joins list of financial services groups in crosshairs of OECD Multinational Guidelines after human rights ruling – Responsible Investor, October 15, 2018 (paywall)
ANZ boss says bank will consider compensating Cambodians forced off farms for sugar plantation – ABC, October 12, 2018
ANZ failed to meet human rights standards: government report – Sydney Morning Herald, October 11, 2018
ANZ slammed for Cambodia rights violations – The Australian, October 11, 2018
ANZ loan to controversial Cambodian sugar firm criticized by Australia – Reuters, October 11, 2018
Victims put pressure on ANZ over the loss of their land – The Age, February 23, 2017
Open letter to ANZ CEO Shayne Elliott – Inclusive Development International and Equitable Cambodia, March 11, 2016
Government asked to intervene between ANZ and poor Cambodians – ABC PM, October 7, 2014
Inclusive Development International and Equitable Cambodia file OECD complaint against ANZ Bank for financing massive land grab – Inclusive Development International and Equitable Cambodia, October 7, 2014
Evictees resume protest against ANZ Royal – Cambodia Daily, October 1, 2014
ANZ says no to evicted Cambodian farmers – Sydney Morning Herald, August 20, 2014
ANZ Royal and sugar firm part ways – Phnom Penh Post, July 7, 2014
ANZ faces accusations it financed businesses that forced villagers from their land – ABC Special Report, April 28, 2014
Deaths raise new questions on ANZ funding of Cambodian sugar projects – April 27, 2014
NGOs say bank must remain to clean mess – Phnom Penh Post, January 30, 2014
ANZ ethics under scrutiny over Cambodian sugar plantation loan – The Age, January 23, 2014
Uniting church wants answers from ANZ over Cambodian sugar plantation – Sydney Morning Herald, January 23, 2014
ANZ monitoring Cambodian sugar client accused of human rights abuses – ABC  Radio Australia, January 23, 2014 
ANZ embroiled in sugar land grab – ABC News, January 23, 2014 
ANZ implicated in Cambodian sugar evictions – Cambodia Daily, January 23, 2014
ANZ Royal financing Cambodian blood sugar plantation – Phnom Penh Post, January 23, 2014
Clean Sugar Campaign Message to Coca-Cola Company, November 13, 2013 
"Tales of 'blood-stained sugar" – Phnom PenhPost, July 4, 2012