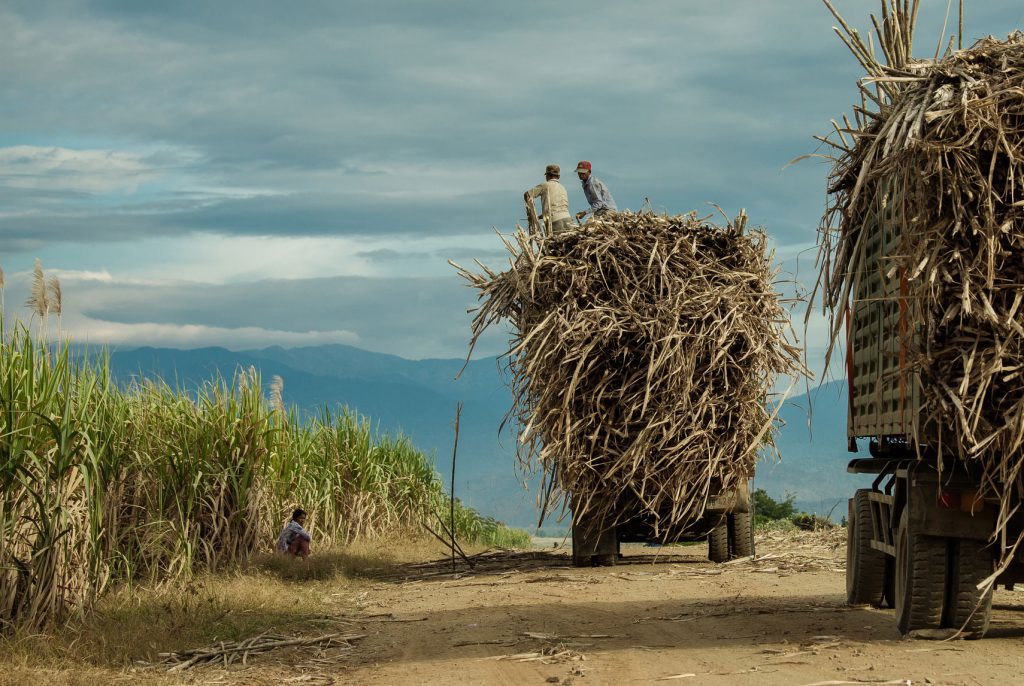 Transnational corporate interest in land-related investments in the global south has exploded in recent years, as the food, energy and financial industries relentlessly pursue new resources and markets. This rush for land has resulted in a tenure insecurity crisis manifested in forced displacement and dispossession on a staggering scale. Every year, millions of people are forcibly driven from their lands, homes and farms to make way for oil and gas pipelines, hydropower dams, high-end real estate development, large-scale agro-industrial plantations, and other mega-development projects.
Behind most large-scale investment projects is a web of global actors that make the project possible. These actors include banks and investors that are funding the project and the companies that are buying what is being produced. All of these actors are necessary to a project's success, and all are aiming to earn a profit from it in one way or another. They all have a relationship with the business operating on the ground and have the ability to influence it. All of these actors have some responsibility to ensure that the project does not harm local people.
Often, these actors have reputations to protect and are acting in violation of laws or their own social and environmental standards, making them potential pressure points for advocacy. But because these actors remain hidden from scrutiny, affected people are denied critical information that they could use to devise winning strategies to defend their rights.
Inclusive Development International has launched the Follow the Money initiative to illuminate the path to justice by uncovering and exposing those who profit from harmful investments. By systematically shining a light on the backers of these projects, mapping investment chains and relevant points where pressure can be applied, and providing tailored advice about potential advocacy strategies, Follow the Money can help people secure their rights.
Knowing who is financing a project, who is buying the product or raw material, and who else is making the project possible and profitable – in other words, following the money – opens up a range of opportunities for improved accountability. We call the web of actors involved in a project an investment chain. Within this chain there are pressure points. If affected communities can identify the strongest pressure points and take actions directed at effectively influencing key actors in the investment chain, they are more likely to achieve their goals.
How Follow the Money can help affected communities
Mapping an investment chain can be a complex, time-consuming process. Often, information about the various actors can be difficult to find – sometimes by design.  Through our Follow the Money Initiative, IDI's skilled researchers and advocates use financial and trade databases and other digital tools used by Wall Street insiders to unravel the complex web of backers of harmful investment projects. IDI uses this information to systematically map the investors, financiers and buyers behind the projects, analyze points of leverage, and support communities in developing smart advocacy strategies to defend their rights.
Our researchers can identify:
Shareholders of companies or entities involved at all levels of a project.
Loans, bonds and other debt instruments that provide funding throughout an investment chain.
International financial institutions, such as the World Bank Group, contributing funding to a project.
Buyers of products, suppliers of raw materials or providers of equipment essential to the operations of a project.
We can then recommend potential advocacy strategies based on what we find.
How Follow the Money works
Our Follow the Money to Justice online resource provides information, practical tips and exercises detailing how to map an investment chain behind a project, identify the strongest pressure points along the chain, and then devise effective advocacy strategies that leverage those points. It explains what you need to know, the challenges you may face, and the strengths and weaknesses of a range of advocacy options. Examples are provided from cases around the world where communities have successfully followed the money and used a range of strategies to hold investors and governments to account.
Communities affected by harmful land-based investments can request additional support from IDI's Follow the Money team for investment chain mapping and advocacy advice. Here's how the process works:
Communities make a request, either through a local partner or directly.
IDI researchers review the facts of the case with the requestor, ensuring that everyone understands the nature of the request.
An initial assessment is made based on a basic investment chain map: is further research warranted? Note that some projects will not have suitable pressure points that are susceptible to advocacy, in which case further research will not be useful.
In cases where further research is warranted, IDI researchers produce a concise, easy-to-understand memo that maps the investment chain, identifies key pressure points, and analyzes potential advocacy strategies.
Working with partners, IDI will disseminate to requestors the investment chain and pressure point analysis, along with tailored advice about potential advocacy strategies.
For some cases, upon request, IDI will provide additional support to requestors to execute legal, advocacy and negotiation strategies or refer the case to partners with the relevant expertise and availability to provide the support needed.
For more information about the Follow the Money initiative, or to submit a request, please contact Dustin Roasa at [email protected].
News and Updates
IDI launches pioneering new program that will shine a light on the invisible backers of land grabs (January 2016)
Resources
Follow the Money to Justice online resource
Following the Money:  An advocates guide to securing accountability in agricultural investments (2015)